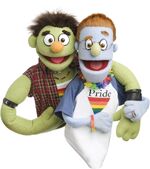 Ricky is a green male humanoid whatnot who appears in the adult-themed Broadway musical Avenue Q. Ricky is Nicky's brother and is similar in design to him. He only appears in the scene in which Rod comes out of the closet. Nicky tells Rod that he put a personal ad all over the internet with Rod's picture on it. Then Nicky introduces Rod to Ricky. Rod and Ricky then go into Rod and Nicky's apartment. After that, Ricky is never seen again in the musical.
Performers
Edit
The character of Ricky is puppeteered by the female assistant puppeteer in the show (Jennifer Barnhart in the original and latter Broadway casts) and he is voiced by the puppeteer of Nicky. Performers include Christian Anderson, Rick Lyon, Rob McClure, Cullen R. Titmas, Rob Morrison and more.
Like Nicky, he is also a parody of Ernie from Sesame Street.
In July, 2011, the same day same-sex marriage was legalized in New York City, Rod and Ricky (handled by Howie Michael Smith and Jed Resnik, respectively) made history as the first same-sex puppet couple to wed. The ceremony was done at City Hall beneath a rainbow chuppah. Kate Monster (handled by Jennifer Barnhart) served as flower girl. The couple had a brief honeymoon and made it back to the theater in time for their 3pm matinee.